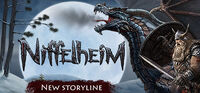 Niffelheim is a game created by Ellada Games. It was released on Steam Early Access on April 28, 2016. It was fully released on September 26, 2018.
Description
[
]
Your avatar is a brave warrior who has fallen in battle. But instead of finding well-deserved peace in Asgard, his soul is trapped in the harsh world of Niffelheim. Survive in this hostile world, ransack the neighboring lands, explore dangerous dungeons and find your way to Valhalla.
Features
[
]
Discover the world ruled by ancient spirits.
Beautiful high-detailed graphics painted by hand.
Cold and hostile feel of the world of ancient burials and gravesites.
Uniquely implemented random generation of the underworld.
Endless caverns and dungeons with more evil than gold inside.
Creatures and monsters of all kinds inhabiting the savage lands.
Diverse quests. Warfare and alliances within the struggle for supremacy.
Cooperative Multiplayer. Play alongside AI or your friends or against them.
Battle for your domain. Harvest resources. Build your castle and farms.
Travel and hunt. Progress in real time.
Upgrade your character's abilities. Forge unique weapons and tools.
Find a way to break free from the demons of death grasp.
System requirements
[
]
Mac OS x
[
]
Minimum requirements
[
]
OS: OSX 10.9+
Processor: 2,7 GHz Intel Core i5
Memory: 4 GB RAM
Graphics: Intel Iris Graphics 6100
Network: Broadband Internet connection
Storage: 2 GB available space
Additional Notes: 21:9 screen ratio supported
Steam OS + Linux
[
]
Minimum requirements
[
]
OS: Ubuntu 14.04
Processor: 1.7 GHz Dual Core
Memory: 4 GB RAM
Graphics: NVIDIA GeForce GTX 650Ti
Network: Broadband Internet connection
Storage: 2 GB available space
Additional Notes: 21:9 screen ratio supported
Windows
[
]
Minimum requirements
[
]
OS: Windows XP, 7, 8, 10
Processor: 1.7 GHz Dual Core
Memory: 4 GB RAM
Graphics: NVIDIA 9800 GTX+ or better
DirectX: Version 9.0
Network: Broadband Internet connection
Storage: 2 GB available space
Additional Notes: 21:9 screen ratio supported
Screenshots
[
]
Videos
[
]
External links
[
]